If you're looking for the best eCommerce platforms in Kenya, then you've come to the right place. In this article, we're going to cover the leading online shopping sites where you can set up an online store and start selling. And, if you're an avid shopper, this list is a gold mine for the best shopping sites in Kenya for any product.
Additionally, we'll reveal how you can select the best eCommerce platform for your business.
What is an eCommerce platform?
An eCommerce platform is an online marketplace where buyers and sellers meet.
The term e-commerce is typically used to describe the buying and selling of products or services online.
The avenues for buying and selling include auction/bidding sites, classifieds, and online marketplaces.
Online shopping is the most preferred form of buying and selling goods in Kenya. According to eCommercDB, fashion is the largest segment in Kenya and accounts for 40% of the eCommerce revenue in Kenya. It is followed by Electronics & Media with 38%, Toys, Hobby & DIY with 10%, Furniture & Appliances with 8%, and Food & Personal Care with the remaining 4%.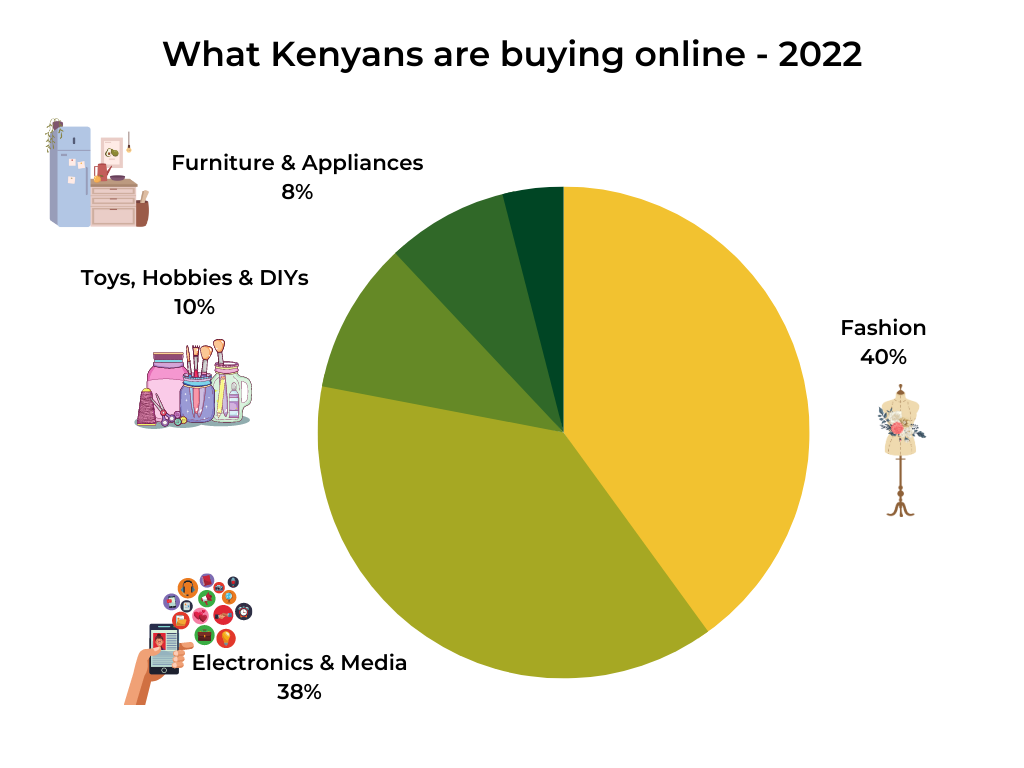 More small businesses in Kenya are migrating to online stores/retail, not just to reduce costs, but to target larger audiences.
There are many options available for eCommerce platforms in Kenya and it can get overwhelming trying to determine which is the best eCommerce platform in Kenya for your business.
Ecommerce platforms: categories in Kenya
All three types of ecommerce platforms are available in Kenya. They are:
Business to Business Platforms (B2B) – Used by large companies/corporations to sell products or services to other companies/businesses.
Business to Consumer Platforms (B2C) – Used by large companies and SMEs to sell products/services to individuals/consumers.
Consumer to Consumer Platforms (C2C) – Used by individuals to sell new/used items or quick services on social media or external websites.
Now that we know the types of eCommerce platforms in Kenya, here's a list of the top 5.
Jumia
Jumia.co.ke is an online marketplace and e-commerce company with a focus on serving Africa.
A pioneer of e-commerce, Jumia is the largest online retail store in Africa in terms of traffic with over 100,000 unique visitors a day.
Founded in 2012 in Nigeria, by Sacha Poignonnec, Jeremy Hodara, Raphael Kofi Afaedor, and Tunde Kehinde. The quadruple saw a large gap in the market, especially with the rise of internet penetration in Africa, to provide consumers with affordable and quality products, from the comfort of their homes.
Jumia is the fastest-growing e-commerce company in Kenya, boosting 5M+ products on their platform. It has grown from being a start-up to one of the most recognized brands in Africa.
Jumia set up shop in Kenya in May 2013 with the aim to revolutionize the concept of shopping – to provide customers with the best online shopping experience.
The eCommerce platform also has a mammoth following of 18+ million followers on Facebook, making it the most massive e-commerce store on social media. From mobile phones, tablets, computers and laptops, to women's and men's fashion, plus everything in-between.
They support local vendors with a select collection shipped from China.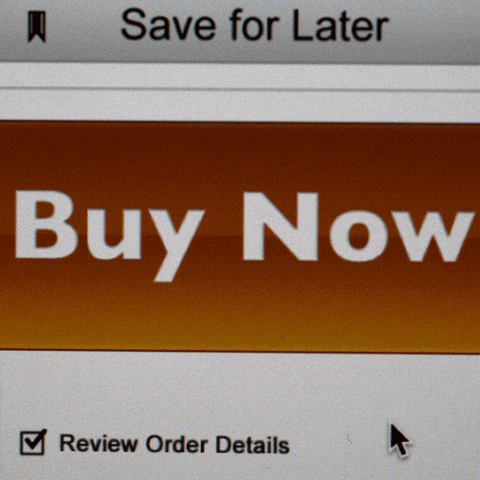 With over 15M monthly visits, Jumia is the perfect eCommerce platform to start selling online in Kenya. Here are a few accolades that Jumia has received since its inception:
Success Digest – Innovative business of the year 2013.
Customer Service Excellence Awards 2015
Orange Academy brand wall of Fame – Jumia Kenya.
Rima Awards – Best use of Mobile App – Jumia App.
Is it worth selling on Jumia
Well, according to Jumia, at least 40% of sellers on their eCommerce platform make more than KSH 50,000 a month. A team vets all vendors to avoid fraudsters and their customer support is top-notch, on chat and call.
Kilimall
Shortly after Jumia came into the market, Kilimall came into the scene in July 2014. It was founded by Yang Tao and is a direct competitor to Jumia. The eCommerce platform has over 200,000 subscribers.
The eCommerce platform in Kenya operates under three e-commerce shopping models, namely;
FBK (Shipped by Kilimall directly) – local and global sellers are allowed to store their products at Kilimall warehouses with no charges
D.S (drop shipping) – local merchants store their products at their own premises while selling on the platform and,
G.S (global shipping) – Goods sourced majorly from China.
Kilimall is a copy-pasted version of Jumia, selling a wide range of products. Phones, computers, clothing, shoes, home appliances, books, healthcare, and much more can be found on Kilimall.
The prices are significantly lower than other eCommerce platforms in Kenya, with prices starting from as low as KES 1.
Most eCommerce platforms have the same or similar online retail concept from Jumia and Kilimall.
Other eCommerce platforms in Kenya worth noting are: Jambo Shoppe and Sky Garden.
My Dawa
Founded in 2017 by CEO Tony Wood, MYDAWA enables consumers to conveniently purchase authentic high-quality medicines, health and wellness products through partnerships with healthcare practitioners and suppliers.
The e-pharmacy source and sell all their items themselves and has over 100,000 registered users across Kenya.
As the first online pharmacy in East and Central Africa, it has signed up over 80,000 registered users.
MYDAWA surpassed Jumia sales in 2021 to take the top spot as the best eCommerce platform in Kenya with US$8.9m. Jumia sales were far second with US$3.6m.
Facebook and Instagram
Meta has quickly turned into an online shopping base for consumers. The model was introduced by Mark Zuckerberg back in 2016 and many SMEs and MSMEs thrive and scale their business thanks to these two social media platforms.
WhatsApp for business has also successfully taken off eliminating the need of a website for many businesses.
These social media platforms qualify as eCommerce platforms In Kenya due to the B2C model where shoppers can purchase goods (or a service) directly on the platform.
It's a one-on-one service space as buyers interact directly with the seller, sending pictures or video content in real-time.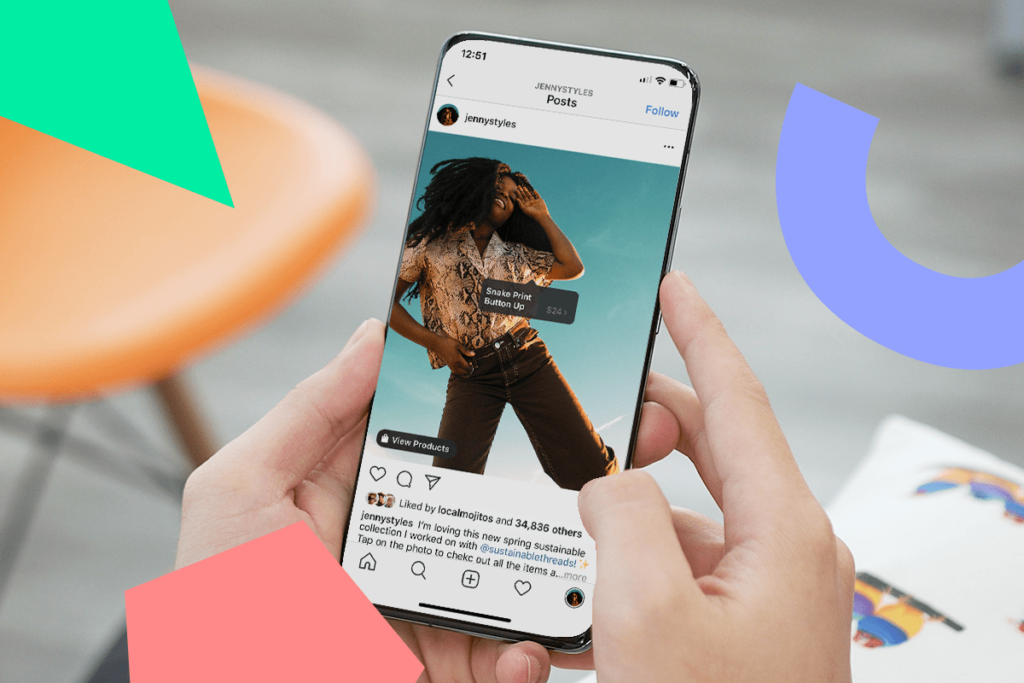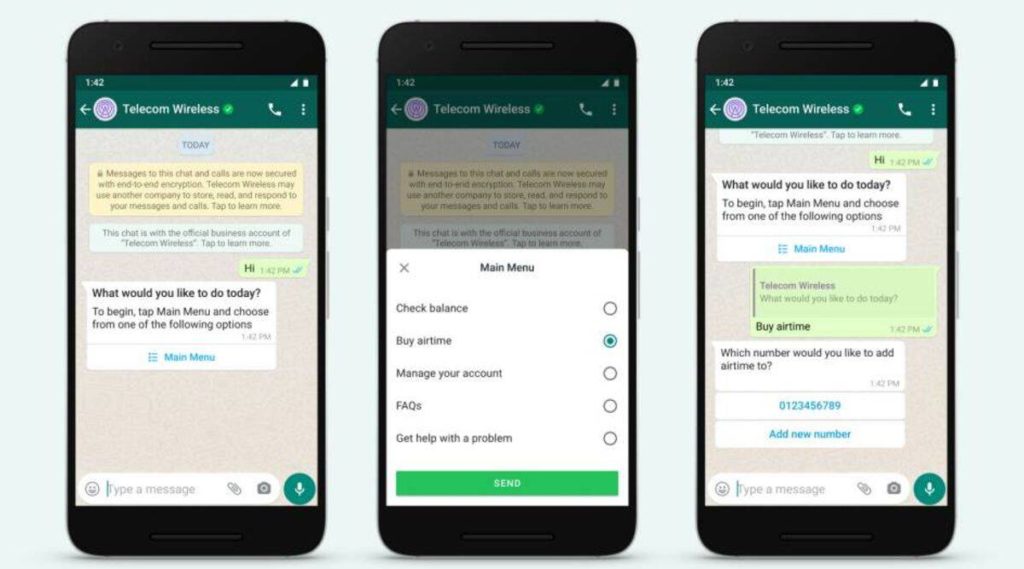 Many fraudsters are known to troll these platforms posting non-existent goods, and requesting for a deposit fee before delivering the item. Yours truly was a victim of fraud in 2020. So, as a word of caution, if the deal is too good to be true, or if the seller has a strict 'pay a deposit/pay first before delivery' policy, that is your red flag to take your needs or wants elsewhere.
The Meta Marketplace is a C2C and B2C eCommerce platform.
Jiji
Previously known as OLX, the eCommerce platform was well-known for being a den of thieves and fraudsters. This is because anyone can set up an account and start selling.
The global sellers eCommerce platform model remains the same, but after the relaunch and rebrand in 2019 to Jiji, the creators assure sellers and buyers that they now have a thorough vetting process.
OLX is currently in India, South Africa, Brazil, Indonesia, Portugal and Romania.
Due to the negativity surrounding OLX in Kenya, Jiji stepped in and took over the URL with the rebrand. 
Jiji is the biggest free online classified – a hassle-free solution to sell and buy almost anything in Kenya. Founded in Nigeria, the eCommerce platform has presence in Ghana, Kenya, Uganda and Tanzania.
You can list anything to sell on Jiji, from cars to real estate. It may not have redeemed itself from its OLX days, but the marketing team is working overtime to ensure the brand is a household name, in a positive way.
Phoneplace Kenya
phoneplacekenya.com is an online store that specializes in the Electronics & Media category, particularly in the area of Consumer Electronics.
They're well known for providing original and genuine smartphones, phone accessories, Apple products and more, all at affordable prices. Phoneplace Kenya started as an online social media (on Facebook) shop back in 2012.
Direct competitors to Phoneplace Kenya, and eCommerce platforms themselves, Avechi, Shopit, and PriceinKenya are rising stars that deserve a mention on this list. Alibaba is also very popular with vendors and distributors, however, be waryof fraudsters and/or fraudulent purchases.
B2C leads the eCommerce industry in Kenya as it is expected to grow exponentially, with a forecast of up to 19.04% in 2026.
The country's B2C Ecommerce Gross Merchandise Value will increase from US$1.7 billion in 2021 to reach US$4.4 billion by 2026.
Given these growing statistics, it is expected of every business to have an online presence. That's where we come in.
If you're looking to grow your business online with a functional and on-trend website, go viral on social media or launch an email campaign, get in touch with Digital Beehive Africa, Kenya's Digital Marketing company for eCommerce businesses of all sizes.
Call +254701 007 001 to get a FREE quote and consultation, leave us a kind word here.